Add a text box to your email templates Alla Poghosyan
When working on email templates, you may need text boxes to separate your text from other content blocks visually.
Note: The main difference between Text and Text Box is that the latter has borders and gray color in the background.
To add a Text Box to your email template, follow these steps:
1. Drag the Text Box to the place you wish.
2. At the automatically opened Text Editor Panel on the right side of the page, you can add a text and edit it by:
changing the style, size, alignment of the text,

inserting a numbered or bulleted list.
Text box also allows you to insert links, images, tables, lines, etc.
Note: The Auto save function saves your work every 20 seconds and this action cannot be undone.
3. Click the Save & Close button when you're done.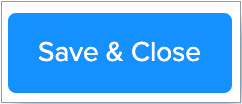 Edit, Clone, Remove
Any content block inserted from the Email Editor toolbar has three icons:
1. Click Edit to change something in the settings of the selected content block.

2. Click Clone to make a copy of a content block you have created.
3. Click Remove to delete the content block you no longer need.

Learn more about the tools of the Email template editor.
Did this answer your question?