What is Double opt-in? Alla Poghosyan
When activating a Free Subscription you can set a double opt-in for your readers. This means, that any reader who subscribes to your publication must confirm the request. Here's how it happens.
Firstly, the reader enters the email address in the subscribe form and clicks the button to subscribe.
After, a confirmation email is sent to the reader's email address provided in the popup. This email contains a link which the reader must click to confirm the subscription request.
Why do you need to activate the double opt-in option?
Double opt-in option excludes fake or spammy emails. Non-existing email addresses or the ones with typos will not be added to your list of subscribers automatically. This way you guarantee that only the leads who are really interested will be converted into subscribers.
To activate this option activate the free subscription and make sure to check the Send a double opt-in confirmation email box.
What will my readers see?
When a reader opens your publication they will see the Subscribe popup first.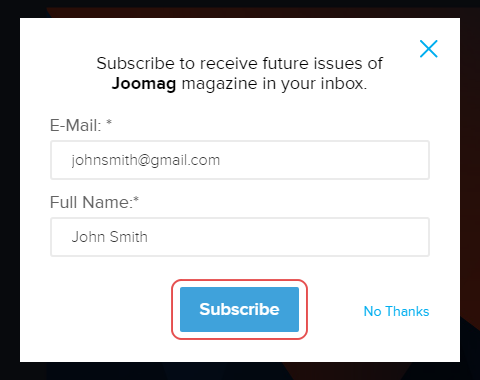 After readers insert their email address and the required information, here's the message they'll see:
Now, the reader has to go to their email inbox, open the message from Joomag and click the link.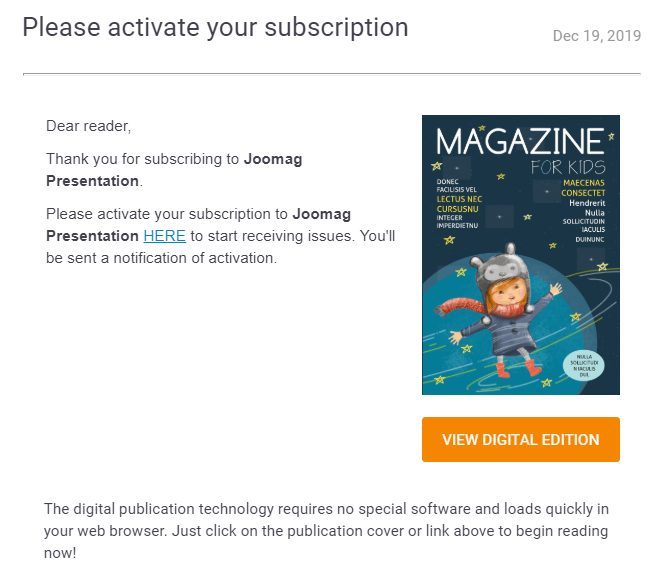 That's it! Feel free to contact us if you have any questions.
Did this answer your question?