With Joomag's analytics, you receive detailed statistics on your Audience, Content, Reader Behavior, and Acquisition. The Reader Behavior contains several sections: Engagement, Video and Audio performance, Link performance, Reading progress, Retention, Feedback stats and comments. In this article, you'll see how to check the feedback form stats and comments that were left by your readers.
To check Feedback stats and comments:
Open Joomag Analytics

Click the Behavior metric

Choose either Feedback stats or Feedback comments section
Tables can't be imported directly. Please insert an image of your table which can be found here.
Note: Before checking the stats and comments you might want to apply filtration to browse data for a specific publication, collection, reader and date range. Click here to read how to work with the filtration and segmentation options.
Feedback Stats
Track the average and the total number of scores that have been given by your readers.
If you have chosen different Survey Styles each style will be displayed and will show the respective number of submissions.
While checking the scores you can also browse the comments by clicking the View button.
Feedback Comments
In this section, you will see what comments have been submitted. In case the person also left his email address you will see it in the Reader column. Moreover, you will also have the possibility to apply filtration to quickly assess needed data such as: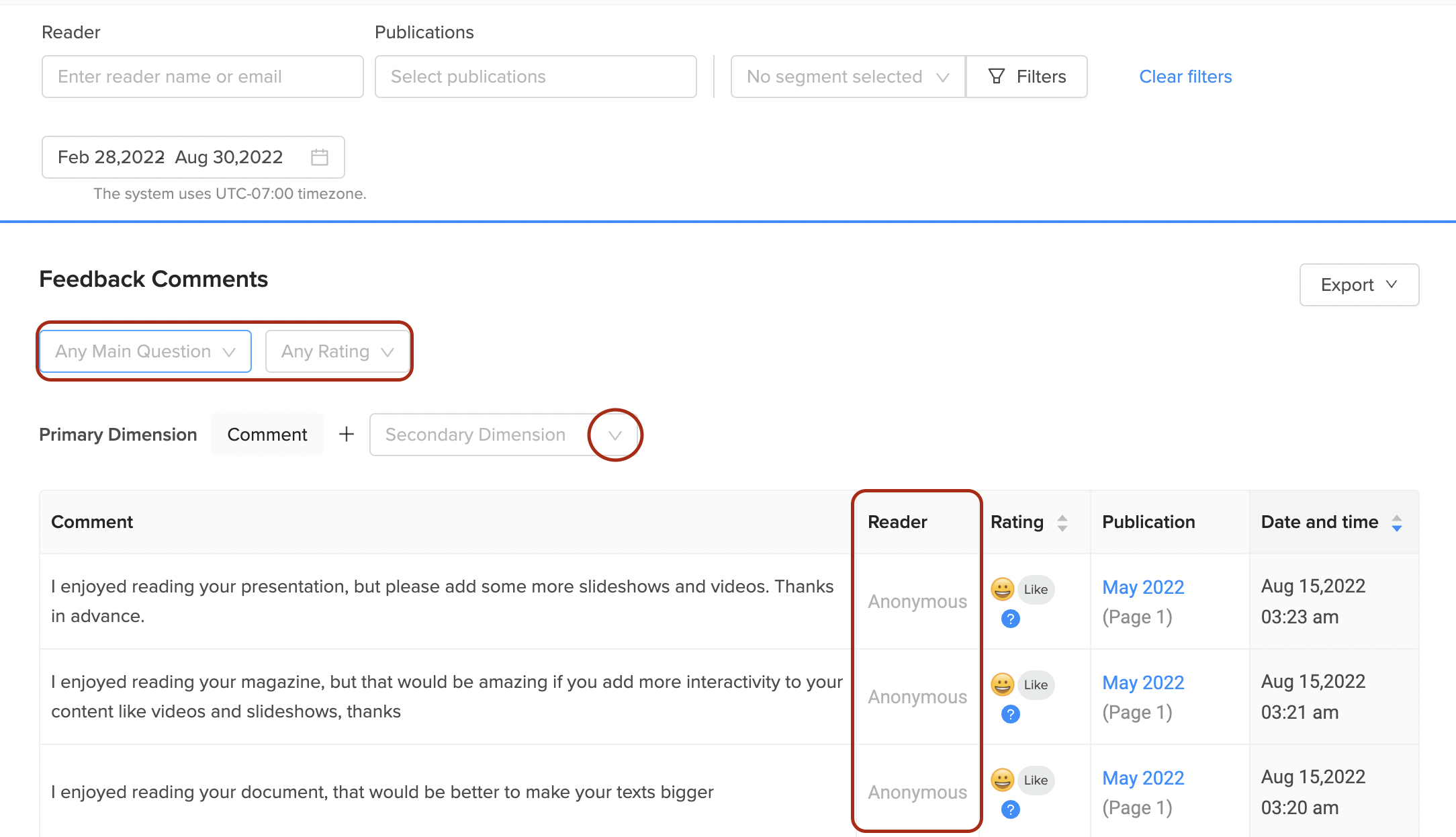 Any Main Question - choose the Main Question that you have specified for your feedback forms

Any Rating - choose the rating type and you will see the comments that were submitted with the chosen rate

Secondary Dimension - add additional information to the reports such as Country; City; Continent; Devie Category; Mobile Device Branding, Info, Marketing name, Model, etc.
Congratulations, now you know how to check Feedback form stats and comments!
Did this answer your question?