Publication embedding privacy option Alla Poghosyan
Allow embedding of your publications only on the domains and websites that you choose to ensure additional privacy level of your content.
Tables can't be imported directly. Please insert an image of your table which can be found here.
Note: This option is only available with the Enterprise plan.
To enable the embed privacy option, perform the following steps:
1. From My publications open the collection you wish.
2. Click the Privacy settings icon.
3. Scroll down and answer the question: "Where can this publication be embedded".
Anywhere - the publication can be embedded on any website.

Nowhere - the publication cannot be embedded on any website.

Only On Sites, I choose - enter the website URLs/domains where you want to allow embedding of the publication.

To allow your website members and readers to view your publication either on the websites you choose or directly on domains where you embed your publication you can check Disable public links box.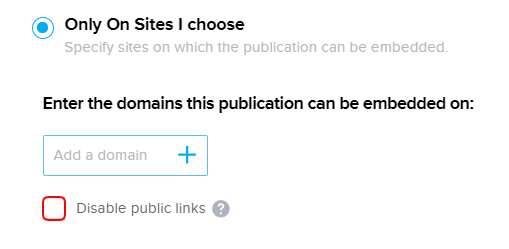 That's it! Now you know how to set up privacy before embedding a publication.
Did this answer your question?