Once you send out any campaign through Email Marketing you can always check its status, type, creation or last modification date, number of recipients, open rate and reputation.
Statuses:
Now let's talk about each status.
Draft - When you start planning a campaign but for instance do not finalize all the edits and decide to leave your campaign in its current state without sending it out, your campaign remains in a draft mode.

You can either click on Back to campaigns button to exit the campaign and save or discard the changes:

Or, you can simply click on Save button and then go back to your Email Marketing general page

Sent - This status simply indicates that you have successfully sent out a campaign to your contacts. You can always check out the campaign statistics by going to your Email Marketing main page and clicking on the campaign name

Scheduled - If you wish your email campaign to be sent out to your readers automatically on a specific date and time then you can just schedule it:

You will be offered to choose the desired date and time (Time zone: CT). Once the campaign is successfully scheduled, you will see its status on the mail Email Marketing page.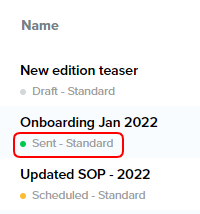 Types
Standard

Single Publication

Complimentary Subscription
Standard campaign - sends emails directly to your contacts' inboxes. For example, if you have included a paid publication in your email your recipient will be able to open, preview certain pages of your publication and after, purchase it.

Single publication campaign - sends out a free copy of a paid publication.

Complimentary subscription campaign - sends out a free subscription of your collection to your readers. They can access both the current live edition and the upcoming ones for the specified period of time.
Learn more about the campaign sending process here.
Name - Name of your campaign (visible only to you, your readers only see the email subject that you set separately)

Created - The campaign creation date and time

Last modified - The latest modification date and time

Sent to # - Number of people/contacts the campaign was sent to

Open rate - Percentage of recipients who opened your email
Reputation
Your account reputation is measured over the last number of emails you have sent, spanning over approximately the last X days. The reputation is based on the number of bounced emails and spam reports.

Did this answer your question?